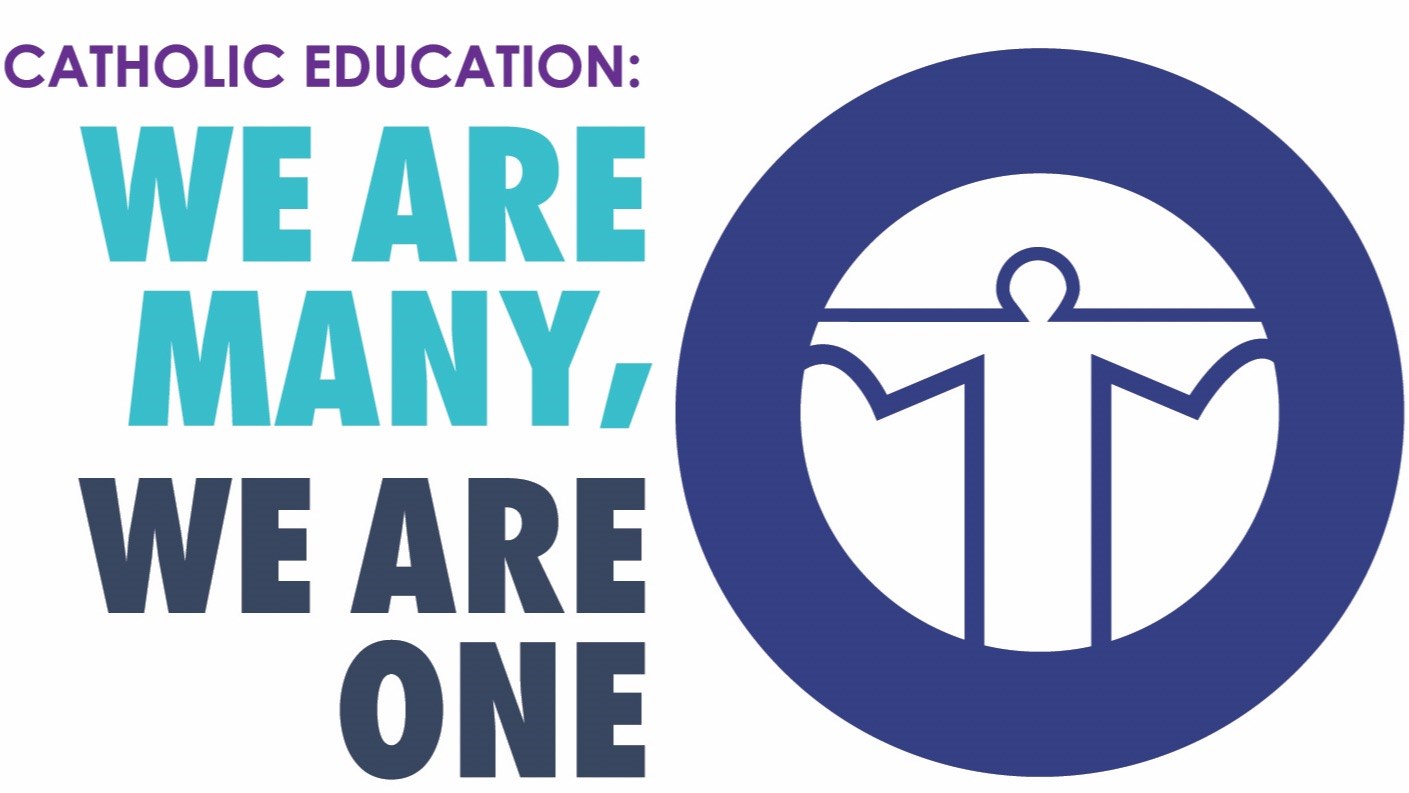 Catholic Education Week for 2023 is May 14 - 20, 2023, and World Catholic Education Day is May 18 (Ascension Day).
Each year, Catholic schools in Saskatchewan participate in a week-long celebration to remember and share the gift of Catholic education. Join over 40,000 students in Saskatchewan—more than 20,000 with Greater Saskatoon Catholic Schools—to celebrate the gift of Catholic faith-based education.
We are Many, We are One / À plusieurs, nous sommes un
"We, who are many, are one body in Christ, and individually we are members, one of another." (Romans 12:5)
«Nous qui sommes plusieurs, nous sommes un seul corps dans le Christ, et membres les uns des autres.» (Romains 12, 5)
This year, students and staff all across the province will be taking time each day to pray together and reflect on our unique roles as members of the body of Christ.
Read a letter from the Bishops of Saskatchewan.
Follow and share using the hashtags: #CEWSK #CatholicEdSK #WeAreManyWeAreOne
---
Catholic Education Week Prayer


We are many, we are one; we all form one body in Christ.
Lord, when we see the one before us, let us reverence your presence within;
when we listen to one another, let us hear with our hearts;
when we reflect on each encounter, may we discern to understand;
when we learn from those around us, let us respect our differences with joy;
and when we act, may we be kind and generous to all,
for each person is a member of your body, with all that they are.
We are many, we are one.
Amen.
---
Saskatchewan Catholic School Boards' Association (SCSBA) has created a video to promote greater unity by seeing and embracing our differences and all that makes us unique. We work together in Saskatchewan to rebuild, restore and renew our relationships with our students and the great people across our province. As a community we must walk together and work towards a common goal of creating an inclusive and respectful learning enviornment. We can achieve this by integrating Indigenous perspectives and knowledge into the curriculum, celebrating Indigenous culture and fostering meaningful relationships with Indigenous communities. We celebrate Catholic Education Week practice our faith with families each and everyday in schools.
---
Join our school communities in prayer each school day during Catholic Education Week.
Monday, May 15 – When we see / En voyant
Jesus,
You showed us how to see those who are blind, those who are small,
those who are fearful and those who climb trees.
We can see with our eyes.
More importantly we can see with our hearts.
You invite us to see with our hearts, to see deeper than the surface.
Guide us today to see with our eyes, our hearts and our minds.
When our attention is called to someone or something,
remind us to be loving, compassionate and kind.
Then we will see like you see and we will be one.
Amen.
Tuesday, May 16 – When we listen / En écoutant
We pray to listen, heal and respond:
Loving God, give us hearts that listen for Jesus, your Word,
in the people and world around us.
Help us imitate the Good Samaritan,
who does not turn away from suffering.
Help us listen.
May we listen to those who are bullied or lonely
or pushed to the outsides of our communities.
Help us hear your voice in the stories of those on the margins.
Help us see what binds us together as one family..
Help us to heal and things that divide us from others!
Give us courage to stand in the place of others.
Open our hearts to celebrate diversity in the world and in one another.
Help us to seek reconciliation that our world may reflect justice.
Amen.
Wednesday, May 17 – When we reflect / En réfléchissant
God of grace and goodness,
You gather us together as a community of faith to pray and to give thanks for the gift of a new day.
As we begin this day, help us reflect on who we are and who You created us to be.
Give us the wisdom to recognize You in our relationships with others.
Teach us to be understanding and thoughtful in our actions and
guide our actions to bring peace to our school, families, and the world.
Touch our hearts as we approach this new day with respect and kindness.
We ask this in Jesus' name.
Amen.
Thursday, May 18; World Catholic Education Day – When we learn / En apprenant
God of peace and justice,
Open our hearts and minds to the beauty and wisdom of those around us.
Help us to create spaces of warmth, welcome, and acceptance where each and every person is valued and heard.
Guide us to see and celebrate our differences
as opportunities for growth and learning.
Teach us to appreciate the many gifts and insights we can offer
to each other as members of one faith community.
Sustain us as we work to build your kingdom here on Earth,
making disciples of all nations.
We ask this through Christ our Lord.
Amen.
Friday, May 19 – When we act / En agissant
God who acts in and through us,
as we think about our world and its many needs,
we ask to share in your wisdom and courage.
Help us to turn our prayers into actions,
our hope into practice,
our faith into witness.
May the gift of our differences lead us to a deeper unity,
and may our efforts together on behalf of justice
help to build up your kingdom of love.
We ask all of this through Jesus Christ our Lord.
Amen.