High School Learning Program and Assessment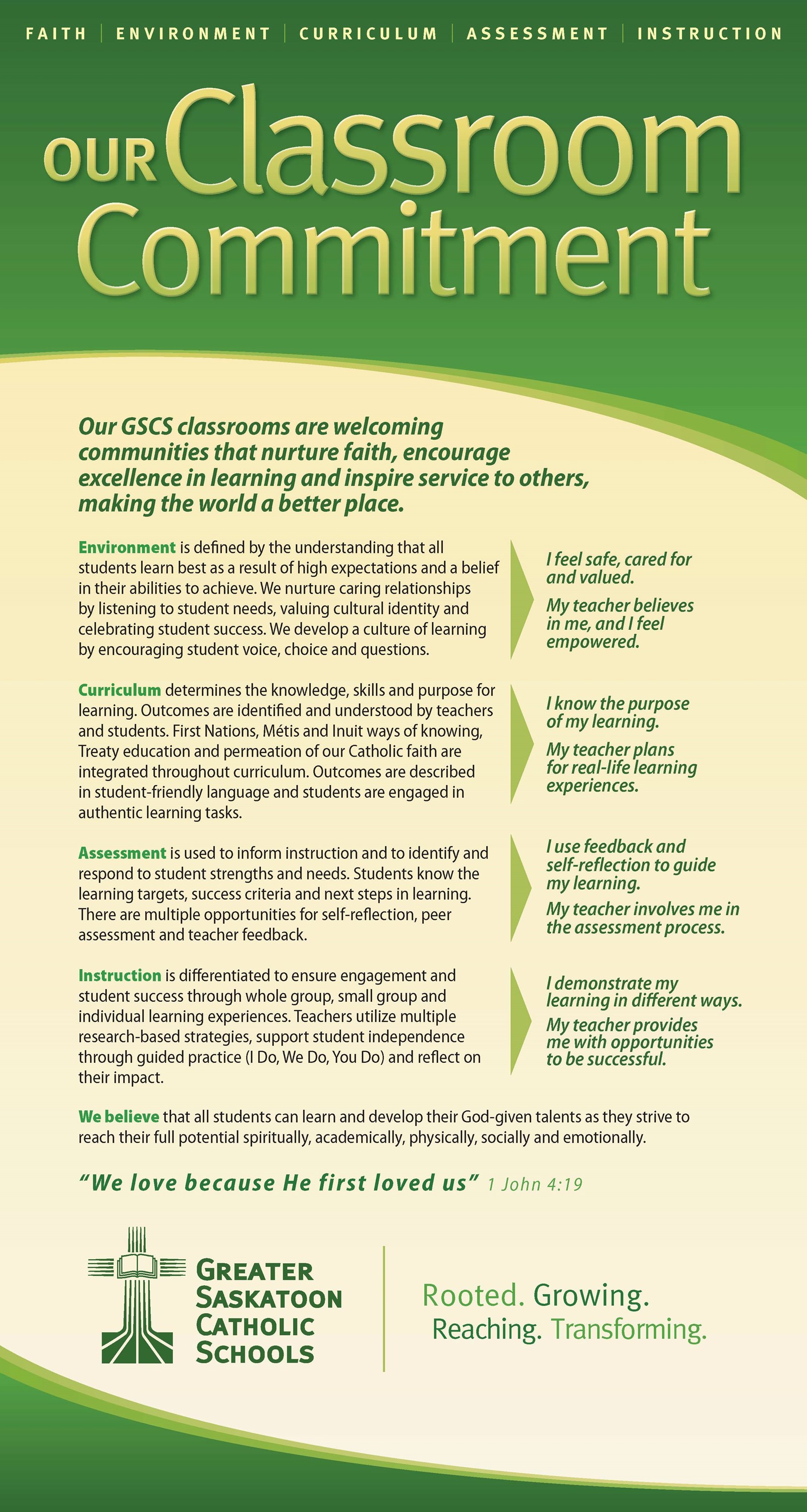 Within GSCS, assessment is central to the teaching and learning process. As such, assessment must involve students, parents/guardians and teachers as active participants. The primary purpose of assessment is to support and enhance student learning. Assessment is also used to communicate consistent, accurate and meaningful information to all stakeholders. GSCS values the role of assessment in teaching and learning. Accordingly, GSCS encourages excellence through assessment for learning, assessment as learning and assessment of learning opportunities (GSCS Quality Core Instruction).
High School Progress Reports
Learning Behaviours
What are Learning Behaviours?
Learning behaviours describe various actions that students should carry out in order to do their best in their courses. These are:
Engagement: Arriving prepared and ready to learn, being actively involved in the learning process, using class time effectively
Respect: Respecting the rights, property, and opinions of one's self and others
Responsibility: Completing and submitting class work, homework and assignments according to agreed upon deadlines

Why are learning behaviours important?
Learning behaviours have a significant impact on student achievement; that is, they affect how well students will learn in their courses.
How will the teacher report on learning behaviours?
The teacher will assess students on the behaviours of Engagement, Respect, and Responsibility using the following scale: Usually, Sometimes, and Not Yet Evident.
Will the learning behaviours be included in a student's grade?
Learning behaviours will not be part of a student's grade. The reporting of learning behaviours will be separate from student achievement, unless they are identified in the Saskatchewan curriculum as a specific learning goal for the class in question.
Greater Saskatoon Catholic Schools High School Achievement Scale

Percentage Score

Letter Score

Outcome‐Based Achievement Descriptors

100
E+

Exemplary: Evidence indicates in-depth understanding, demonstration or application of the outcomes

95
E
90
E-
85
M+

Meeting: Evidence indicates understanding, demonstration or application of the outcomes.

80
M

75
M-
70
Ap+

Approaching: Evidence indicates progress toward understanding, demonstration or application of the outcomes.

65
Ap

60
Ap-
55
Be


Beginning: Evidence indicates initial understanding, demonstration or application of the outcomes.

50

Be-

35

IE+

Insufficient Evidence: Evidence of understanding, demonstration or application of the outcomes has not yet been shown.

0

IE