Black and White and Grey (Cup)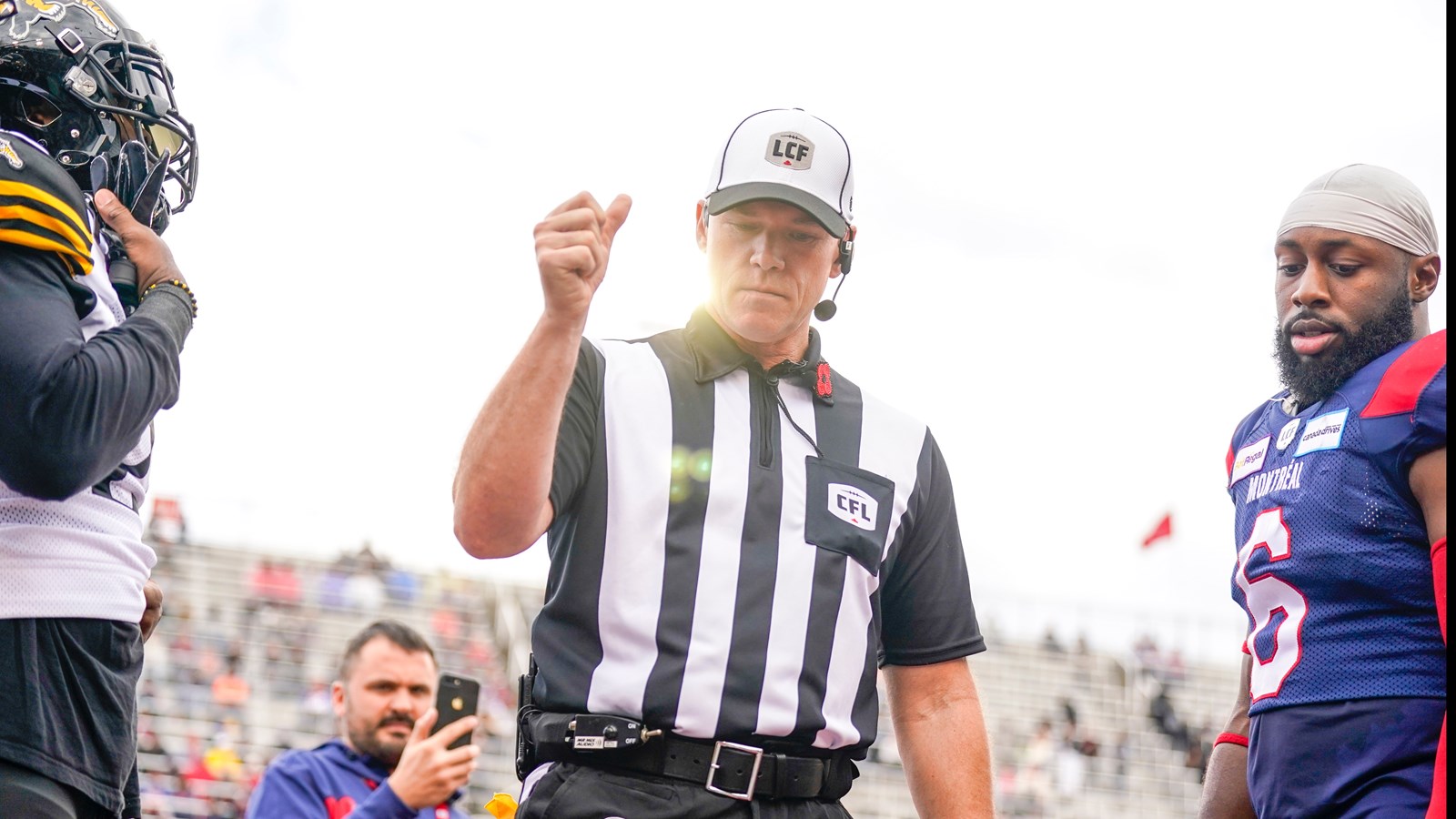 With the Green and White being out of the Canadian Football League's playoff picture for some time, you'll be forgiven if you aren't captivated by the Grey Cup game taking place in Hamilton, Ontario this weekend (November 19, 2023). If you do take in Sunday's game, you will still be able to appreciate a local connection who will be wearing black and white.
Tim Kroeker, a teacher at St. Nicholas Catholic School, former student at St. Thomas School (now Pope John Paul II School ), and Holy Cross High School graduate has been named head referee for the CFL's 110th Grey Cup.
According to a CFL news release, "Kroeker has spent 17 seasons officiating in the CFL, serving in 271 games. This is his sixth appearance in a Grey Cup, but his first as a head referee. His crew is made up of the 11 highest-rated officials in the league this season."
Tim took some time to talk about his experiences as an official and teacher before he hopped on the plane to Hamilton.
Greater Saskatoon Catholic Schools: How did you get involved in being a football official?
Tim Kroeker: I played football at Holy Cross, and we won provincials my Grade 11 year. So, I have an interest in sport. I started reffing basketball in high school so I could make some pocket change.
When I became a teacher, my first principal was Al Mitchell, who was an official here in town. They were always short of football officials, so he said, "Hey, come on out." I thought officiating was a good way to stay involved in sport and give back to the community.
GSCS: What was the progression to end up as a CFL official?
TK: You start with youth football; I think it's pee wee now. I started with six-man and nine-man football in places like Clavet and Aberdeen. Those were my first games in the uniform.
There are four different levels of amateur officiating, and you would need to take a test to progress through the different levels. You have to be asked to progress to the next level. Your supervisors have to see something in you and think you're ready to go to the next level.
I was officiating university football, and in 2005 the CFL's director of officiating was going across the country looking for officials. He was the first one to search for officials in non-CFL cities. He talked to former officials and supervisors, and my name came up.
I was told, "George Black is going to be in town to watch you." I had no idea who he was, and I didn't have any aspirations to officiate in the CFL. He liked what he saw, and he called me in 2006 to give the CFL a shot. So, I got my big binder of rules and mechanics that I read for a couple months and went to training camp.
GSCS: This isn't your first time officiating at the Grey Cup, but it is your first time as head referee. How does that feel?
TK: I spent the first 10 years as a line judge, a down judge and a field judge. I have three Grey Cups under my belt as a line judge. After the 2012 season, I spoke with director of officiating Tom Higgins and told him I'd like to try out as a referee. He said yes and took a chance on me, and I did my first game as referee in 2013.
It was interesting, because I went from being on the top (for experience) as a line-of-scrimmage official and doing multiple Grey Cups, to being at the bottom as a junior referee.
I had never been a referee regularly at any level prior to that, so I had to make all my mistakes in front of 30,000 people and 500,000 people on TV. There were a lot of bumps, and there was a lot of learning going on.
GSCS: What are some of the challenges balancing teaching and your responsibilities as a CFL official who has to travel a lot?
TK: Last flight out and first flight home.
When I started this, my kids were three, one, and we were expecting our third. My wife is the campion of this whole thing. The work she does to take care of everything is amazing. It wouldn't happen without her.
GSCS: What do your students or colleagues think when they find out you're a CFL official?
TK: Not a lot of my students watch football, but their parents do. So, I'll have students say. "Hey, my dad saw you on TV." It really depends on the class; some will think it's cool.
A lot of my colleagues know more and will talk about games, especially if I do a Rider game.
GSCS: There are 24 big men on the field, a battery of coaches and other team personnel, 25,000 people in the stands who may not be your best fans. What's it like trying to control things at a game and on the field?
TK: Playing sports all my life, you win or you lose. Being an official, you never win, but sometimes you lose. Sometimes no one likes you except your colleagues and your family, and sometimes that's debatable. We're there to make sure things go fairly and run smoothly. Fans are there to see the players, not the officials. If we're not the story after the game, that's a win.
GSCS: Does that dynamic of managing things on the field during a game translate to your experience in the classroom as a teacher?
TK: I think leadership carries over a lot, whether it's with colleagues or students. What I try to do is involve my colleagues and lead by example. Treating people right and fairly is the biggest thing when you deal with people. It's about relationships.
(Content has been edited for length and context.)
---
photos provided by the Canadian Football League