Staff gathers to launch a new school year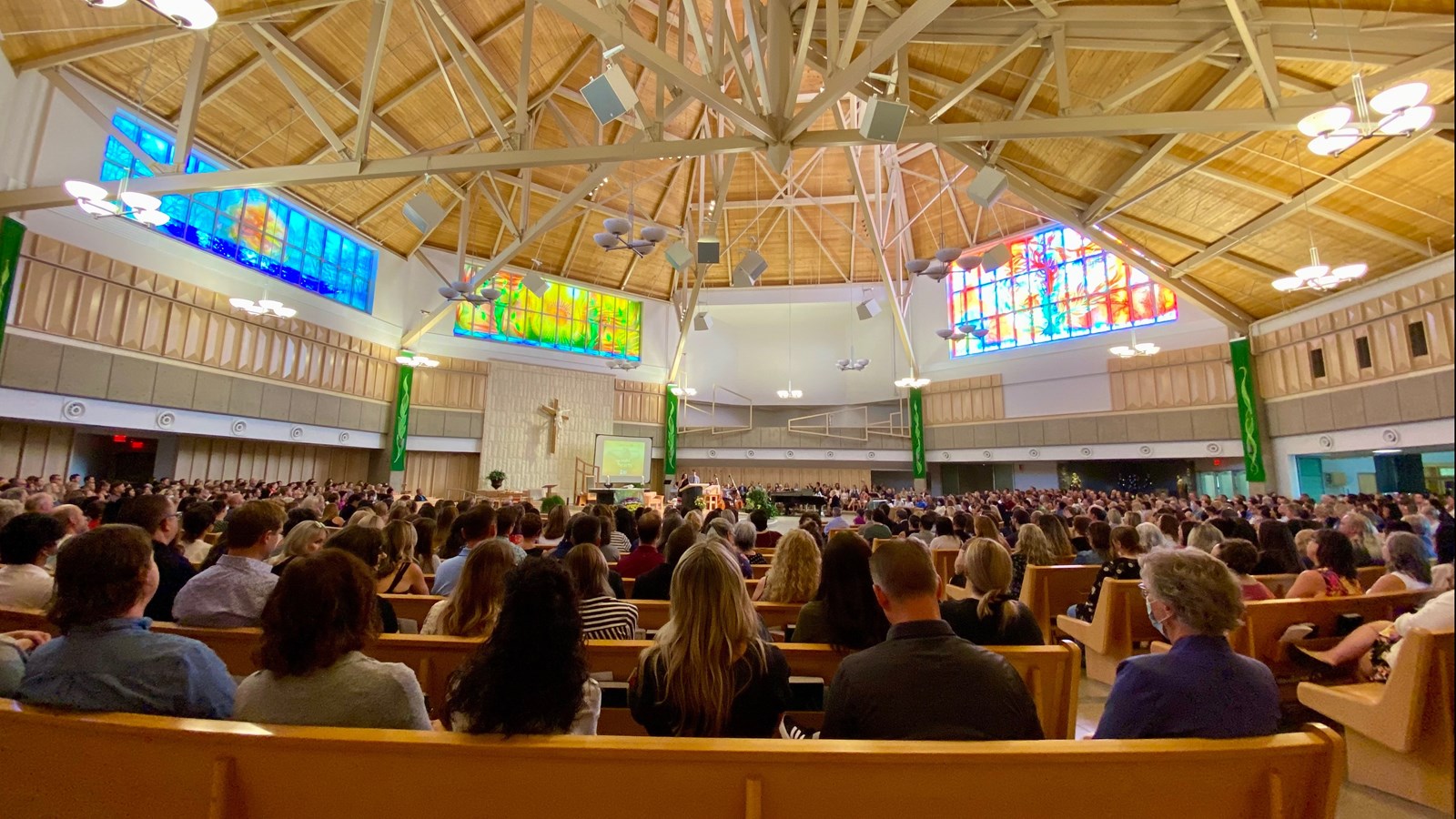 This story was originally published by the Roman Catholic Diocese of Saskatoon and is posted here with permission.
By Kiply Lukan Yaworski, Catholic Saskatoon News
Some 2,000 Greater Saskatoon Catholic Schools (GSCS) staff, administration and board members gathered at the Cathedral of the Holy Family in Saskatoon Aug. 31 to begin a new school year — rejoicing in being all together after two years of pandemic restrictions disrupting such events.
The GSCS opening event began with the celebration of the Eucharist, with diocesan Vicar-General Fr. Kevin McGee presiding.
A program emceed by teachers Wynona Cenaiko and Thomas McKay after Mass included greetings from GSCS leadership and an inspirational keynote address by singer-songwriter and story-teller Steve Angrisano in the spirit of the Opening Day theme: "With Joyful Hearts."
GSCS Board of Education Chair Diane Boyko (Photo by Kiply Lukan Yaworski)
GSCS Board Chair Diane Boyko brought greetings from all GSCS trustees. "It is so good to be here in person," she said, expressing gratitude for all the ways that staff have gone "above and beyond" to graciously serve students, families and each other during two years of pandemic. She urged those assembled to continue to regularly "try to focus on the things that give you a joyful heart, to have a thankful disposition."
"Thank you for being joyful witnesses to those little ones who choose Catholic education," she said.
Her appreciation was echoed by GSCS Director of Education Greg Chatlain. "You people, you are amazing. You are absolutely amazing. Each of you, in a wide variety of roles that you play in this school division, you are amazing…. in the past 27 months you have done the equivalent in the educational context of climbing Mount Everest.
GSCS Director of Education Greg Chatlain (Photo by Kiply Lukan Yaworski)
Looking to the year ahead, Chatlain noted the continuing work by GSCS to respond to the Truth and Reconciliation Commission's Calls to Action, the ongoing impact of the COVID pandemic, and the tight budgetary restrictions facing school systems right now.
"But beyond a shadow of a doubt, if we can do what we did in the last 27 months, we can meet the challenges," he said. "Not simply navigate them, but get better as we grow."
"So Catholic education's response to the TRC Calls to Action; helping our children and families heal from the many pandemic impacts; doing our best to improve the educational outcomes for all these children in our care; helping our children and each other come to know and experience God's love for them, reconnect them with their faith…. all within an environment of tight resources — yep, we have got this too," Chatlain said. "Our work and our call is of the utmost importance, now more than ever. We have a hope to which we are called. We are not daunted by adversity."
GSCS Foundation Chair Laurie Karwacki (Photo by Kiply Lukan Yaworski)
Laurie Karwacki, chair of the GSCS Foundation spoke about that organization's work in supporting Catholic schools, reflecting on the importance of students and families experiencing a sense of belonging in the hope and care provided by school staff.
Keynote speaker Steve Angrisano wound up the Opening Day celebration with songs interwoven with inspiring and passionate messages about sharing the love of God.
"I hope you remember the power of the body of Christ, the power that comes from looking in someone's eyes and knowing you are understood," Angrisano said, urging GSCS staff to recognize the impact that their care, listening and concern has on a student's life.
GSCS staff members Darcie Lich and Tammy Shircliff assist with actions for a rousing rendition of "Lean on Me" during Steve Angrisano's inspirational keynote address. (Photo by Kiply Lukan Yaworski, Catholic Saskatoon News)