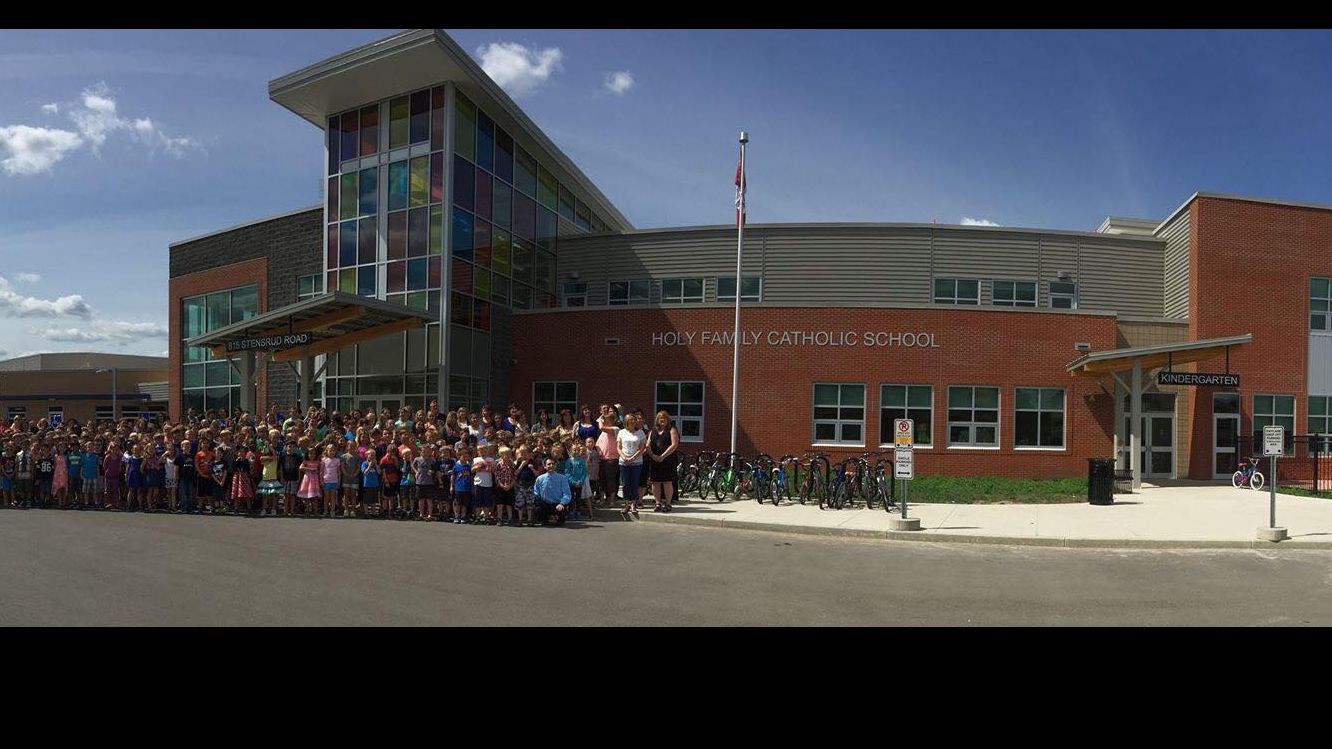 Holy Family a place for everybody, where everybody has a place.
Holy Family School began in September 2014. Since the new school building was not yet complete, students were housed in both St. Volodymyr (K-3) and Father Robinson (4-8) schools. On March 9, 2015 students and staff began classes in their new building.
Our school:
Is Designed with Learning in Mind
School broken into 4 pods around small break out spaces or learning commons
the design concept takes a large school and functionally make if feel like a smaller school
Focus on inquiry and student collaboration
Specialized educational spaces and supporting functions (e.g. Art, Science, Practical Arts, Tutorial, Staff, and Upper LRC) are concentrated in the central portions of both floors.
Exterior learning environments (deck, outdoor learning spaces)
Multiple sites for collaboration (for students and staff)
Supportive spaces for diverse learners
Natural Light and views
Separate designs with distinct identity yet similar or coordinated colors and palates.
2-story library
Permeates a Family/Catholic Presence
Classrooms are organized into four clusters of four classrooms, providing smaller scale in a large school. Each has washrooms, breakout space, and access to the exterior nearby.
The Main Entry, Administration, LRC, Student Support, and Kindergarten entry are arranged at the front, for a welcoming Catholic presence.
Catholic Identity and Presence - The Main Vestibule, Lobby, and LRC will be developed as the showpiece component, with feature stair, double-height space, lots of glass, with high 'street presence' and Catholic identity, inside and outside.
Admin area a welcoming place for students, parents and community members
Chapel
Colored glass with a cross in the center of the school
Promotes an Active Lifestyle and Movement Priority
Large Gym
400m2, Auxiliary Room 150m2 available to GSCS and suitable for smaller groups
larger classrooms 80m 2 and some potential for body breaks.
Fosters Community Involvement
The Gymnasium, its support functions, and the performing arts functions are located towards the south-center of the main floor, for community access, and consolidation of the higher spaces.
Kitchen for community access
We encourage you to learn more about our school and what we have to offer your child. We take pride in creating a positive environment that focuses on faith and learning, so all children will grow spiritually, academically, physically, socially and emotionally.
History
Willowgrove New School Project was approved by the Province in July 2006
Joint Use Project (two schools) was approved by the Province in March 2010
A number of consultations were held. Community members, GSCS Coordinators, Consultants, teachers and staff
Willowgrove K-8 designed for opening enrolment 450, design enrolment 600 (5818 sq m)
Holy Family K-8 designed for opening enrolment 400, designed enrolment 500 (4953 sq m)
Provincially approved daycare facility 50 spaces managed by Preston Early Learning (500 sq m)
Total facility ~11,311 sq m
Constructed work on site started in August 2012. Target completion date was originally March 2014, then September 2014, then January 2015
Facility built on a joint 7.1 acre site
Facility cost approx. $42.25 million (including site work, landscaping, furniture and equipment
Three owners – Ministry of Education, Saskatoon Public Schools and GSCS
Two architects – Kindrachuk Agrey (Willowgrove) and Edwards Edwards McEwan with one general contractor –EllisDon
Opened for classes March 9, 2015
Official Grand Opening June 17, 2015