The Math Learning Community allows access to resources that compliment the face to face curriculum. These resources exist online and can be used by parents / teachers / students who want to supplement their educational academics.
You can access these resources by going to our division portal which will allow you to click on the "Math Learning Community" tile.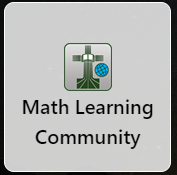 Click here to get to the portal. You'll need to use the username and password that your school provided to you at the beginning of the year.