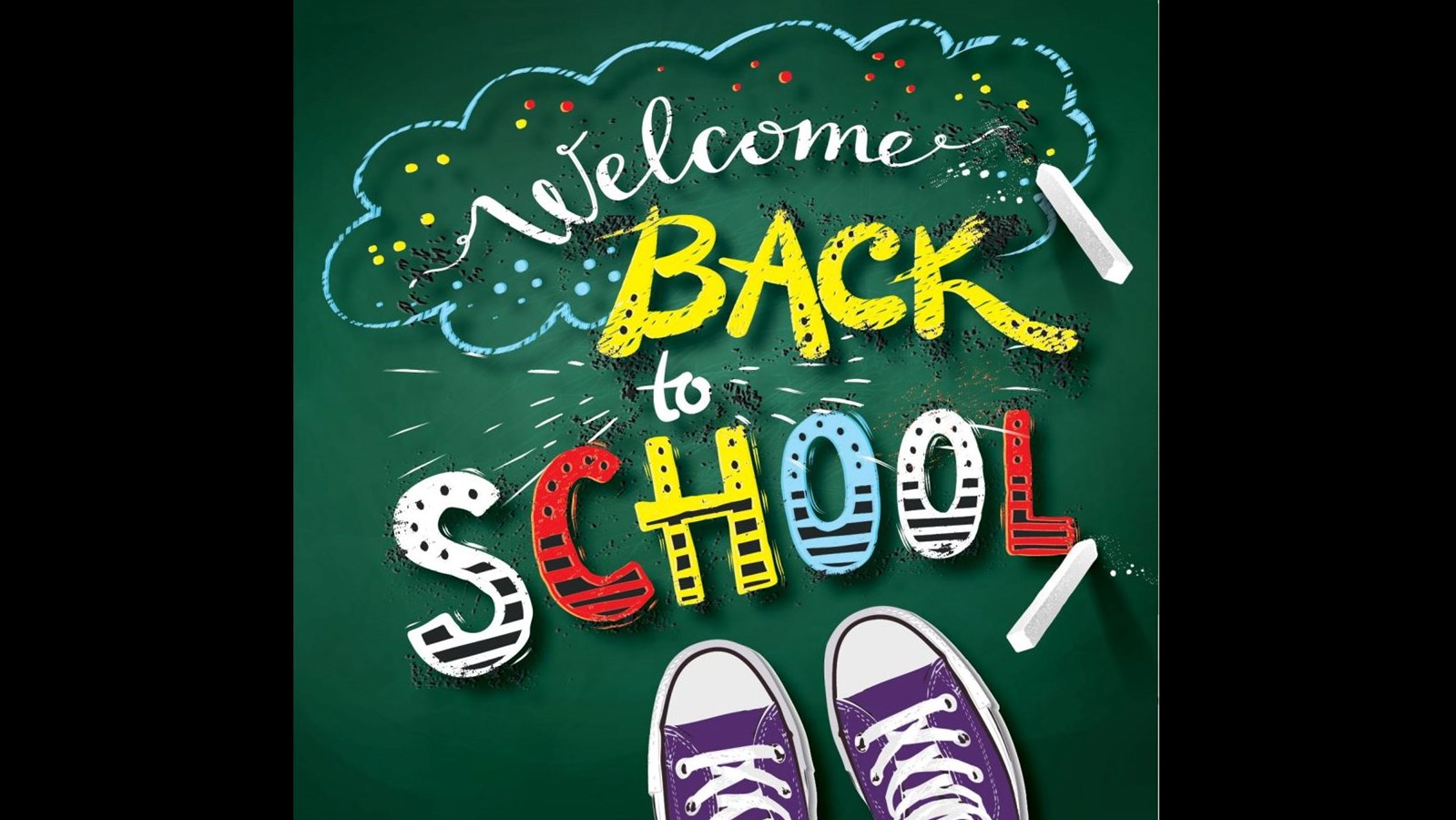 Bethlehem Catholic High School 2023-2024 School Opening Memo
August 24, 2023
Welcome to Bethlehem Catholic High School!
We are looking forward to the upcoming school year!
Please read the information below and share with your parents/guardians.
School Opening Schedule
Tuesday, September 5th First Day of Classes
AM – Grade 9 Students Only
| | |
| --- | --- |
| 8:40 am – 9:00 am | Administration Welcomes Students (theatre) |
| 9:05 am – 9:30 am | Period 1 |
| 9:35 am – 10:00 am | Period 2 |
| 10:05 am – 10:30 am | Period 3 |
| 10:35 am – 11:00 am | Period 4 |
| 11:05 am – 11:30 am | Period 5 |
PM – Grades 10 – 12 Students Only
| | |
| --- | --- |
| 12:20 pm – 12:50 pm | Period 1 |
| 12:55 pm – 1:25 pm | Period 2 |
| 1:30 pm – 2:00 pm | Period 3 |
| 2:05 pm – 2:35 pm | Period 4 |
| 2:40 pm – 3:10 pm | Period 5 |
Wednesday, September 6th Regular school day for all students
| | |
| --- | --- |
| 8:38 am | Music plays to alert students to proceed to class |
| 8:40 am – 9:50 am | Period 1 and Morning Prayer |
| 9:55 am – 10:55 am | Period 2 |
| 10:55 am – 11:05 am | Break |
| 11:05 am – 12:15 pm | Period 3 and Daily Notices |
| 12:15 pm – 1:05 pm | Lunch |
| 1:05 pm – 2:05 pm | Period 4 |
| 2:10 pm – 3:10 pm | Period 5 |
Student Timetables
Timetables will be available on Edsby and My School Sask as of August 28th. All students returning from a GSCS school have access to Edsby either through the GSCS Portal by selecting the Edsby tile in their student account or by downloading the app to their handheld device. Schedules for students new to GSCS will be available for pickup at the Main Office as of August 30th.
To view timetables in Edsby, students can go to the Edsby tile in their GSCS portal, log into their student account, and scroll down on the right hand side to select the View Timetable button.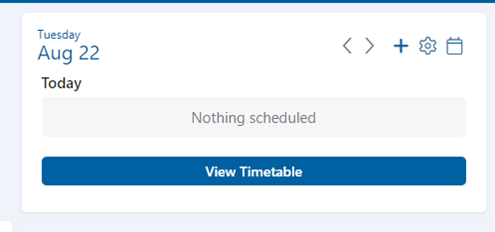 Students are asked to review their timetable prior to the first day of school to ensure they have the correct classes. To check over your timetable, please go to My School Sask in your GSCS portal and follow the instructions below: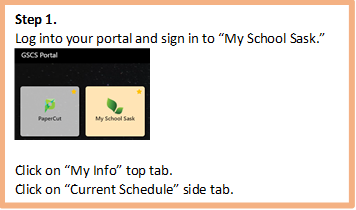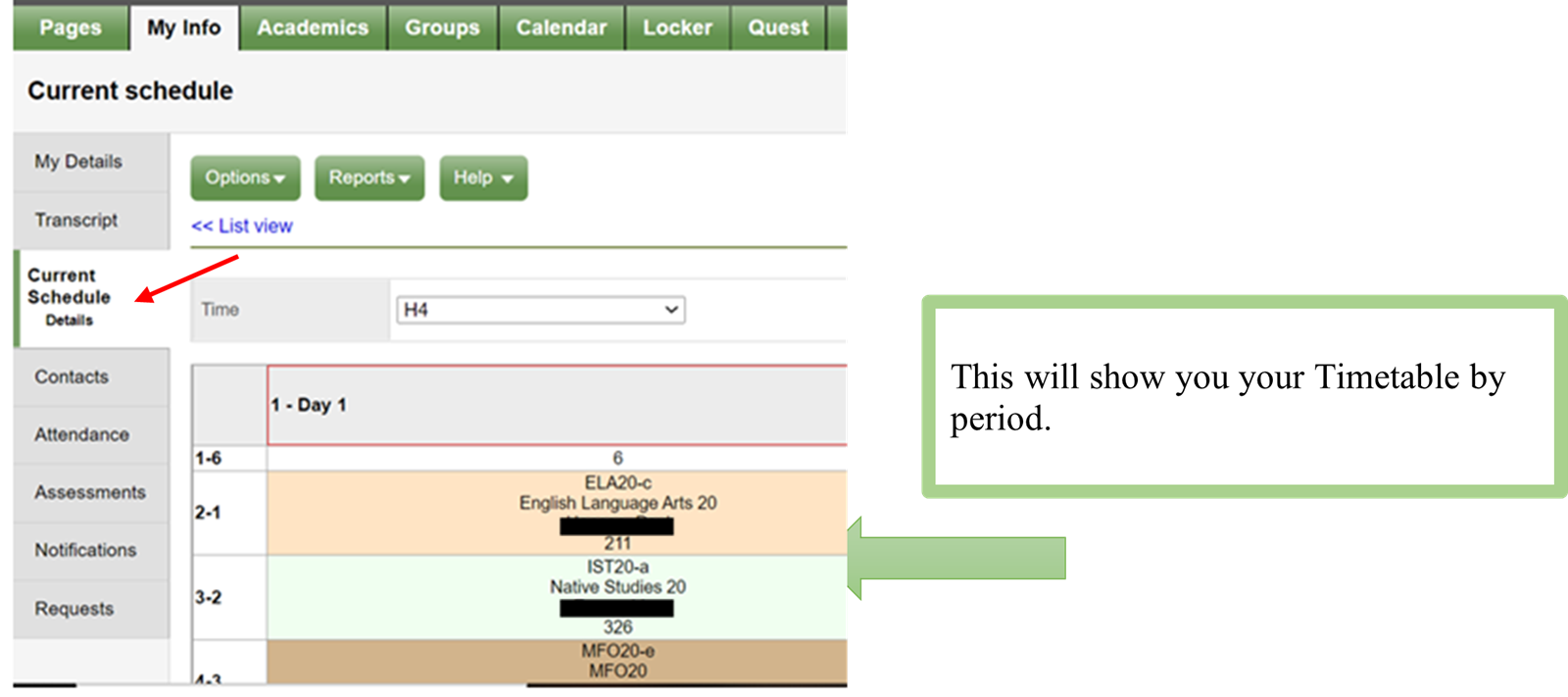 Program Changes
Some students may experience a change in their schedule after the first week in September. We will do our best to minimize these changes; however, adjustments may need to be made to accommodate increased enrolment.
During registration in the spring, students were advised to make sure they knew which courses they wanted in their schedule. Schedule changes will be made for educational reasons only. Please do not request a change for personal convenience or preference. For changes on errors or omissions, please fill out the online form: https://forms.office.com/r/p1hBEW2MSH. A counsellor or administrator will message you through Edsby or send an email to your GSCS account once the changes have been made. All change requests must be submitted prior to 4:00 pm on Thursday, September 7th.
Photographs
Photographers will be at the school on Thursday, September 7th for Grade 11 and 12 students and Friday, September 8th for Grade 9 and 10 students to take their photos. Students will be going with their classes for photographs throughout the day. Students will receive a proof package from this sitting later in September. At that time, they may order their photograph. All students are required to get a photo taken. Please dress appropriately (no hats) as these are used for student cards and in the yearbook.
Student Access to the School
The school is open on regular school days for students until 4:00 pm. Families should make arrangements to have their children picked up from the school by 4:00 pm unless they have a planned extra-curricular activity with a staff supervisor.
School WiFi
Bethlehem doesn't have open WiFi services for students or guests. Students and guests needing to access the internet on their personal devices will need to use their own data.
Locks & Lockers
Locks and lockers will be assigned to all students through the main office. Students will use the same locker as previous years. Grade 9 students will receive their locker assignment and lock from their period 3 teacher on the first day. These are the black locks and should be used on their hallway lockers. Locks not purchased from the school will be removed. Grade 10-12 students will continue to use the locks and lockers they had in previous year(s).
Welcome Week
Welcome Week is scheduled to begin on Monday, September 11th. Several school sponsored activities will occur during the week.
Cafeteria Services
Regular cafeteria services begin Wednesday, September 6th. The cafeteria operates on a non-profit basis and provides meals at a reasonable cost.
School Supplies
Students should come to school with a small supply of pens, pencils, binder(s), and paper. Teachers will advise students of other specific needs for their classes.
Absent Reporting Tool
All absence reporting can be completed on Edsby. Please find a link below for information on how to use Edsby. If you need to be invited to download the link, please contact the school. https://edsby.com/help/parents.
Grade 9 Parent/Guardian Information Night
A meeting for parents of Grade 9 students is scheduled for Tuesday, September 19th at 7:00 PM in the theatre.
BCSCC
The Bethlehem Catholic School Community Council (BCSCC) will hold their Annual General Meeting on Tuesday, September 19th at 8:00 pm in the Bethlehem Library. All members of the Bethlehem Catholic School Community are invited to attend. This meeting is after the Grade 9 parent night at 7:00 pm.
Parents wishing to volunteer to be on the council can contact the school and speak with Ms. Hanlan Stroh or come to the meeting on September 19th to sign up.
Student Fees
School fee invoices will be sent home with students mid-September. Fees are payable to the main office by Tuesday, October 31st, 2023. If this is not possible, please speak with Ms. Chomitzky in the Main Office to make alternate arrangements for a partial payment schedule. If there are difficulties with payment, please contact Ms. Hanlan Stroh. Payments are accepted at the school in the form of cash or debit. The school no longer accepts personal cheques for payments of any fees including team/travel fees. Families wishing to pay by credit card can do so on the MySchoolBucks app at www.myschoolbucks.ca.
Students participating in extracurricular sports and activities with fees will receive an additional invoice once the fees for the activity have been assessed. These fees must be paid 15 days within receipt of the invoice.
Website
The school's website can be found at https://www.gscs.ca/bet. On our website, you will find regular updates to our daily notices, our school calendar, and other important information.
Transit Service
City of Saskatoon provides bus stops by all Saskatoon high schools. Bus passes and tickets are available for purchase on a reloadable card at the school in 10 ticket, 20 ticket or full month passes. City transit now offers an app where bus passes/tickets can be loaded onto android devices or iPhones. Please visit the Saskatoon Transit website at http://www.city.saskatoon.sk.ca/org/transit/ for more information.
Current transit rates for high school students are $2.75 for a single ride (exact change only).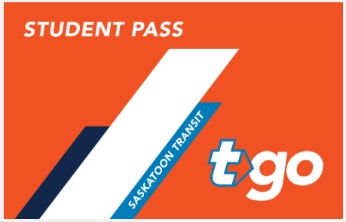 Reloadable student bus cards are available for monthly passes and tickets in multiples of 10 or 20 rides. The cost for these items is:
Reloadable card - $5
Monthly Pass - $59 (valid for the month of purchase)
10 rides: $21
20 rides: $42
Cards must be registered with Saskatoon City Transit in the event of a card being lost or stolen.